Year 4
22nd March 2019
This week Year 4 have had an exciting week. Some children went to a Samba drum workshop on Wednesday which was very noisy but great fun. Other children took part in the WOW's singing concert in which they sang their hearts out.
Year 4 have written some very persuasive posters trying to get me to buy several Roman items.
In Maths the children are also becoming great at working with decimal numbers.
15th March 2019
This week Year 4 have had a super week. They have been working hard to perfect their songs for the WOW's music concert next week.
Year 4 have continued to work hard with their Brass lessons. It is really starting to sound like a band!
They are having great fun learning Tai Cuando.
They have also completed lots of Maths and English activities too!
8th March 2019
It's been another busy week in Year 4. In Maths we have moved on to exploring decimals and we are already are seeing the links to fractions.
In English we continue to work on our grammar and spelling, but this week we have began a new topic of performance poetry. The first poem we have enjoyed has been 'My Shadow' by Robert Louis Stevenson.
In Science we have been learning many new words related to digestion in humans. In our topic we have been finding out about the legacy of the Romans - Roman Roads.
We all visited St Paul's Church for the Ash Wednesday service and learnt a lot about preparing for Easter. We were offered a cross of ashes from last year's palm crosses as a reminder of our visit to church.
1st March 2019
It's been a great start to the new half term. Year 4 have come back to school ready for lots of new learning.
In Maths we are coming to the end of our topic on fractions. This week we have been learning how to subtract fractions.
In English we have started a new novel 'The Sewer Demon' by Charlie Lawrence. We have now completed a unit on Roman Myths and Legends and we are ready to start something new next week!
In Music we have a few weeks left to work on songs for the WOW's festival and it's getting very exciting as well as being hard work!
In PE we are really lucky to be learning a new self defence martial art from Korea: Taekwondo. Through this activity we hope to build lots of new skills, as well as the values it fosters of confidence, respect and discipline.
15th February 2019
This week we have been working on fractions in Maths and we have enjoyed it.
We have also written our own myth which was fun.
In Art some of us have completed our Roman mosaics and we are very pleased with them.
We completed our Science experiment and managed to prove our predictions correct that temperature does affect the rate of evaporation.
On Friday we said goodbye to Mrs Leech and we designed a Get Well Soon card for Mrs Vernazza, who we are missing very much.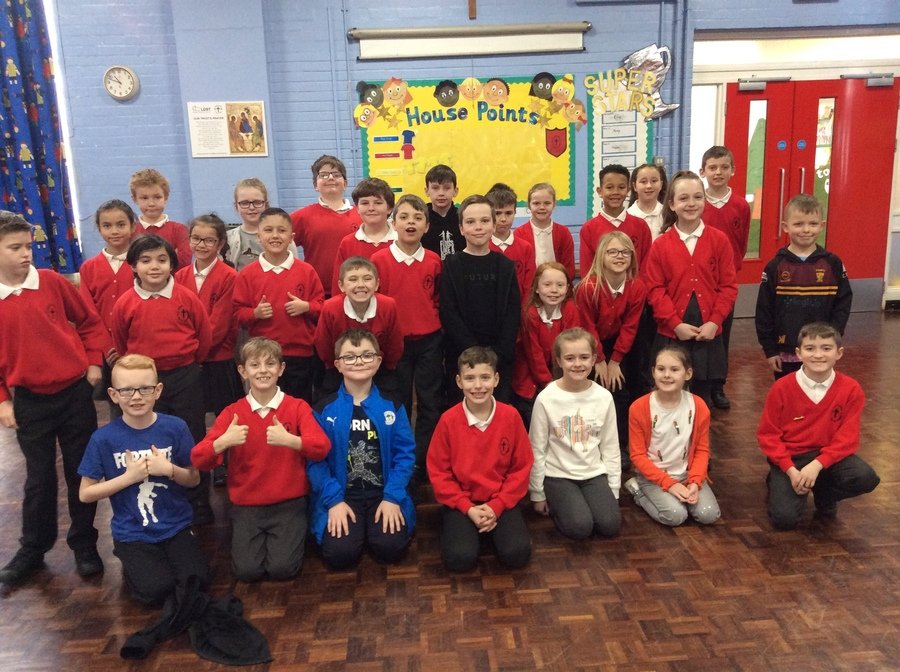 8th February 2019
This week Year 4 have been continuing our work on Roman Myths. We are excited to be writing our own myth next week.
In Maths, we have finished our topic of Area and have made a start on looking at fractions.
We are continuing our exploration experiment in Science and are hoping to have the final results next week. We have also looked again at particle arrangements in solids, liquids and gases, which we found fun.
On Thursday we had a visit from the NSPCC who discussed their 'Speak Out, Stay Safe.' campaign with us. We continued this theme in our PSHE lesson focusing on our class value of truthfulness.
1st February 2019
This week we had a special assembly on Tuesday where we learned about Islam and the Five Pillars of Islam.
We enjoyed a snow day in school on Wednesday and we were able to spend a little time playing outside in the lovely sunshine and snow.
We've been continuing our work on the Romans and this week we have learned all about how they invaded England.
25th January 2019
On Wednesday afternoon, we visited Liverpool Cathedral where they were holding an Epiphany Service. Summer said 'My favourite part was watching the children from Maghull High School performing ballet.' We also enjoyed watching a local primary school recreating the constellation of Orion, which we learned about this week as part of our work on Roman Myths.
18th January 2019
This week, Year 4 have been writing descriptions for mythical beasts. They have also been creating and practising dance moves for their topic work on Romans. Year 4 have had the lovely experience of chef James Deveney helping make healthy banana and carrot muffins and leaving us the recipe. In science, we have been doing a melting and freezing experiment. In topic, we have learned about roman soldiers and their legions and cohorts. Year 4 homework this week is reading comprehension about maps. We are looking forward to our Liverpool Cathedral trip on Wednesday next week, and we have been learning some new hymns to sing when we are there.
11 January 2019
This week, Year 4 have had a lovely start back to the new year! We have had the pleasure of chef Mr Deveney who has shown us how to make our own vegetable paella. We have started our topic on 'The Romans' and have been looking at maps of the Roman empire. In science, we have been learning about solids, liquids and gases. We have also been learning about a Jewish festival of light called Hannukah and learned that the menorah is a special candelabra. Science homework this week, is a recipe to show changing states. The children have 2 weekends in which to hopefully have a go at making and enjoying the recipe.
21st December 2018
This week, Year 4 have had their first Classroom Kitchen experience with James Deveney (professional chef). He got us to make coleslaw using carrots, Greek yogurt and cabbage. We loved it! James will return in the new year and we will have 2 more cooking experiences. Also, this week we have been doing our Science assessments on our topic of Living things. Mr Rigby was very kind and on Thursday, he came to our class and re-enacted the Battle of Hastings on the school playground! We loved that, too! The choir members have sung in our Afternoon concert in the school hall and we have loved our Christmas party games and film whilst wearing our own clothes. We wish everyone a Merry Christmas.
14th December 2018
This week, Year 4 have performed in their Brass concert (Tuesday morning). They were little superstars. We really enjoyed being together singing and playing and our audience was brilliant! Mr Ford and Mr Richeton the brass teachers were very impressed with us!
We have also been learning about features of Norman churches and will look out for these in St Paul's church on Tuesday during our Advent Service 6pm. We have also been learning about different habitats and threats to them and the subsequent effect upon food chains within these habitats. We know the difference between prey, producer, consumer and predator. We have been practising our carol for the Advent service and Year 4 choir members have also been practising for their concert next Thursday afternoon in school. Busy, busy, busy!
7th December 2018
This week, Year 4 have been on 'Assessment week'. They have shown extra special resilience and positive attitudes despite finding some questions very challenging. They have made yummy mince pies with our chef Mr Deveny.
Year 4 have also been working hard putting together gymnastics routines within their groups ready for next week's assessment by Mr Riley. He has been very impressed with the way they worked together. We have been rehearsing for our Brass concert on Tuesday 10.45 am (all welcome).
30th November 2018
This week Year 4 have been taking part in Magenta principles of learning in a Maths lesson. We have proved whether multiplication calculations were correct or not correct using counters or cubes.
23rd November 2018
Year 4 have been making Branching Databases.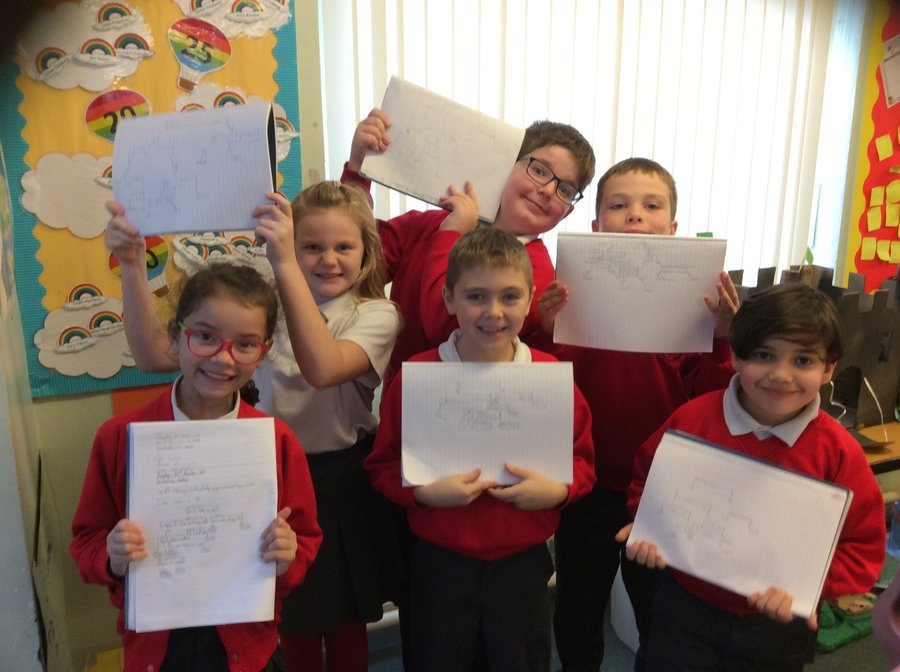 16th November 2018
This week, Y4 have been very busy rehearsing for their parents concert on the 11th December. We are learning lots of short songs and having brilliant brass lessons with Mr Ford and Mr Richeton! We are looking forward to our class performance. Mrs Turner was most impressed with us and listened in to our rehearsal!
9th November 2018
This week we have been planning and writing our historical narrative, '1066.'
2nd November 2018
Year 4 have had an amazing first week back.
In Science we had an amazing lesson learning about 'electricity.' The children really enjoyed making their own electrical switches.