Sports and attendance assembly
KS1 and KS2 Celebration of Learning
Reception's Celebration of Learning
St Paul's Choir sing at St Stephen's Church
Year 5 Visit to Robin Wood
Year 1 trip to Blackpool Zoo
The Pop Project
The Pop Project came to teach the children about British Values through music.
Year 3
Victorian Inventions
R.N.L.I Water Safety Assembly
Year 5 enjoying their fruit kebabs
Year 3 forecasting the weather during their Topic lesson
Barney and Echo Internet Safety Roadshow
The Choir singing at the WOWS concert
Potential Plus trip to the Sealife Centre
Year 6 artistic creations using fruit
KS2 children enjoying their toast that was provided by FOSP
Children in Year 5 worked together to create different letters during their PE lesson
School Book Fair
Children buying books after school at our annual Book Fair!
All money made from the Book Fair will be turned into books for the school Library. World Book Day is 2nd March 2017
Year 6 taking part in the 'Tangled Web' workshop
KS2 Internet Safety Performance 'Tangled Web'
What can we do with our rubbish? Reduce. Reuse. Recycle. With Special guests Scoop the Dog and the Waste Warrior!
Children met Scoop the Dog and the Waste Warrior in our whole school Eco Assembly
Ellen Hardaker from Keep Britain Tidy taught the children how to recycle using the appropriate bins.
Year 4 attended an Epiphany Service at Liverpool Cathedral
Mega Golden time
A huge thank you to Mrs Atherton for arranging our Golden Time treat. Everyone enjoyed watching the magic show.
We all had a great time watching our Christmas Pantomime Puss in Boots!
Advent Service in St Paul's Church
St Paul's Christmas tiles
All of the children in KS2 designed a Christmas tile representing one aspect of the Christmas story. The tiles start with the Angel Gabriel and Mary and go through to the birth of Jesus.
Year 2 Visit to Liverpool Cathedral
The Grumpy Innkeeper
Everybody enjoyed a great performance of the 'Grumpy Innkeeper' by the fantastic Soul Jam.
KS2 Instrumental Christmas Concert
Year 2's Reading Igloo grand opening!
Year 2 enjoying a game of Pinata during their Spanish lesson
Wigan & Leigh Hospice tweeted their thanks!
Katie and Ruby doing a brilliant job selling toys for Wigan & Leigh Hospice. Well done girls!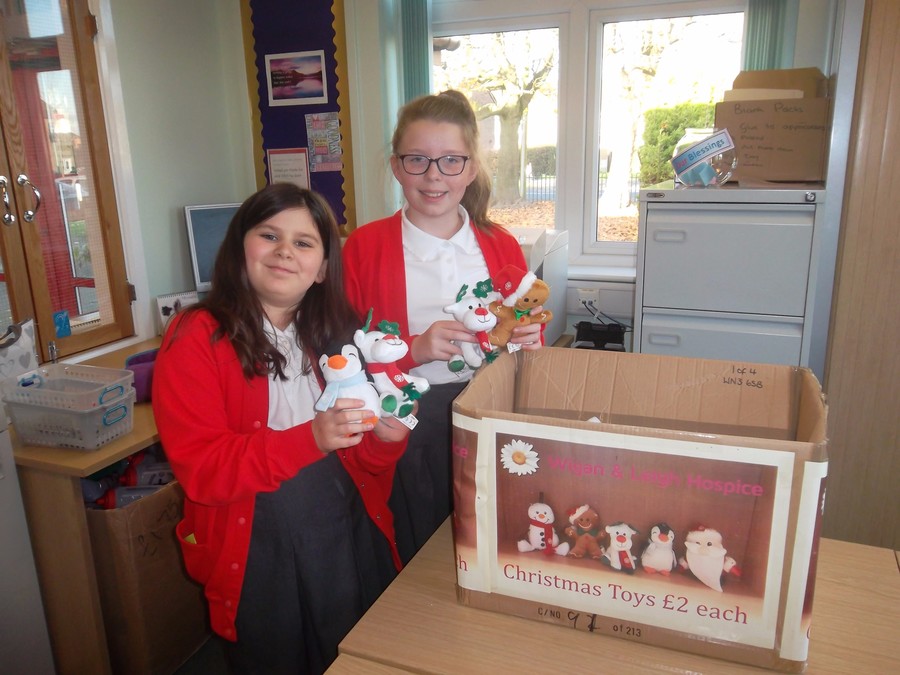 "I really love doing Peer Mentoring because I love helping others to solve problems. It makes me smile seeing everyone friends again." "I like that people trust me and talk to me." "I enjoy solving problems with people and finding out about their point of view."
Getting festive at the Christmas Fayre!
In today's assembly volunteers from the Canal & River Trust taught children in KS2 how to stay safe when they are near water. The Canal & River Trust offers ways to make children aware of water safety through exciting activities.
Year 1 adding their prayers to our Prayer Tree
On Thursday 20th October some children from Year 5 really enjoyed the Barney and Echo Roadshow where they learned about staying safe on and offline.
"I loved it, I wish I could go again. It was lots of fun!" Donny, Year 5. " I enjoyed listening about staying safe online and offline." Ryan, Year 5 "I really liked it when Nao was dancing and speaking to us." Lily, Year 5. "I thought the robot humanoid was amazing!" Lana, Year 5. "It was really fun. We listened to people talk and played games about staying safe online." Jessica, Year 5.
Nao doing Tai Chi at the Barney and Echo roadshow. This was held in the DW Stadium.
Our lunch time office monitors busy at work!
Eco Guardian Conference October 2016
Real Junk Food Project
Each Friday, in term time, a Fur Clempt food stall will be set up outside school. Everyone is welcome to take what they need. A small donation, although not necessary, is very welcome to continue this service to the local community.
Harvest Festival October 2016
Our Christian and British Values Autumn 2016
'The World's Biggest Coffee Morning'
We came together to enjoy some delicious cakes and raise money for the Macmillan Cancer Support Charity.
Our new Prayer Spaces Autumn 2016