17th January 2020
In Year 1 we have been following Beegu on his journey. We have been building up our letter writing skills so that we can write an informal letter to him next week. In Maths, we have been exploring shape and learning more about their properties. In History, we are learning more about the history of our school and where it sits within Wigan.
10th January 2020
Welcome back to Year 1! I hope that you and your families had a lovely Christmas break and are looking forward to the year ahead. The children have settled in quickly and have clearly been trying their hardest in their work.
We are focusing on our new story of Beegu in English. We have explored the mess that he left and have linked our ideas to our new topic in Science - Animals and Plants.
Congratulations Amelia, this week Mr Stuck will be going home with you. This week Amelia has persevered when things seemed a little hard. Well done Amelia. Keep up the hard work!
13th December 2019
In Year 1 we have had an exciting week preparing for Christmas. The elf has been a little stuck for somewhere to sleep in the bad weather. We became designers, builders and investigators and used different materials to create a dry and sheltered place to stay. We tested our ideas to see which materials were waterproof and wind-proof.
We have performed our Nativity alongside Reception and Year 2. There were a lot of new songs to learn and actions to perform but we did an amazing job. Thank you to everyone who was able to come along and join us.
6th December 2019
In English we have continued to learn about our class story, 'I Want My Hat Back' and we have been writing summaries about it.
In Maths, we have explored subtraction. We used a number line to help us to count backwards and answer subtraction questions. We enjoyed exploring subtraction through a game of Snakes and Ladders!
In Geography, we used maps to locate Wigan and various different places in the United Kingdom.
29th November 2019
In English we have been learning about question marks and were they go in a sentence. We have been practising them in our workbooks when applying it to the book 'I want my hat back' by Jon Klassen. We then sequenced the story and acted out each part. In Maths, we have explored number patterns and have been comparing numbers. In Geography we have used our knowledge of compass points to follow direction to find the Bear's hat.
Congratulations Oliver. This week Mr Stuck will be going home with you. This week Oliver has tried his best in all of his lessons and stayed focused, even when things got tricky. Well done Oliver!
22nd November 2019
In Year 1 this week we have been busy with different topics and themes. In English we have been looking at the book 'I want my hat back' by Jon Klassen. It is very exciting as we go through it page by page to investigate where the bear has misplaced his hat. In Maths this week we have been learning about positions and enjoyed practical activities when ordering ourselves after races. We explored materials by making rafts that were able to float then tested them.
Congratulations Dominic, this week Mr Stuck will be going home with you. This week Dominic has worked hard and has impressed all of his teachers. Well done Dominic, keep up the hard work!
15th November 2019
In Year 1 this week, we have been supporting remembrance Sunday, odd socks day and children in need. We were respectful during the 11:00 assembly and thought of those who fought in the war as well as those who were affected by it. We explored the ways in which we are all unique and we all deserve respect during anti-bullying week. We supported children in need in class and were able to cheer on our favourite ducks in the charity duck race.
We have finished our work on Send for a Superhero and created super newspaper articles. We have been ordering positions in Maths and using number names and words to show our understanding.
Congratulations Isaac, this week Mr Stuck will be going home with you. This week Isaac has impressed all of his teachers with his perseverance when he found things a little bit tricky. Well done Isaac!
8th November 2019
In Year 1 we have been continuing to build our ideas about Send for a Superhero. We have been using plurals and suffixes to add to our newspaper reports and we have been super impressed with Extremely Boring Man's surprise power. In Maths we have been exploring families of sums and using this to help us to spot patterns and find relationships between numbers. In Art we have been inspired by Kandinsky and have been linking our ideas together and using superhero music to inspire our paintings.
Congratulations Harrison, this week Mr Stuck will be going home with you. Even when he found writing tricky he kept going and listened to feedback. Well done Harrison, keep up the hard work!
1st November 2019
In Year 1 we have been enjoying our new book 'Send For a Superhero.' We have explored newspaper articles, looked at front pages and have used these ideas to have a go at our own. We have been looking at 'families' of sums and using pictures to illustrate our ideas. We have created our own maps using a key and swapped with each other to follow them.
Congratulation Kaia, this week Mr Stuck will be going home with you. This week Kaia has tried her best to complete all of her work and has really impressed her teachers. Well done Kaia!
18th October 2019
In Year 1 we have been celebrating the Harvest Festival. In class we have been performing a play in RE to showcase our understanding. We want to take this opportunity to send a big thank you for all of the donations from Year 1 for Harvest - it makes a big difference.
In English we ended our journey with Naughty Bus and have written a final story for him. In Maths we are are now focusing on subtraction and the varied ways in which this can be done. In Science we have continued our work on materials so that children can explore their thinking when having a go at their homework.
Have a lovely half term.
Congratulations Phoebe, this week Mr Stuck will be going home with you. This week Phoebe has tried hard in her writing and really impressed her teachers. Well done Phoebe! Keep up the hard work.
4th October 2019
In Year 1 we have been exploring part, part, whole using our resources. We have found different ways represent numbers and are using our findings to create number sentences.
Our new book is called The Naughty Bus and we have been following his adventures. We are using his adventures to inspire our own writing and are building up to writing our own chapter to the story.
We have continued to explore properties of materials and have used our knowledge to find the best material to build a bridge for The Naughty Bus to travel across.
27th September 2019
In Year 1 we have been learning more about grouping objects and breaking a whole set of objects into parts. We have also finished our work on the story Sidney, Stella and the Moon. We created our own fact files about the moon and Neil Armstrong.
20th September 2019
Welcome to Year 1! The children settled in very quickly and are enjoying being part of their new class. They have been learning about the moon and the moon landing then using their ideas to develop their own fact files. We have also been exploring numbers and the ways in which we can show them such as using counters, cubes and fingers.
We have a special puppy in class called Mr Stuck who will be sent home on a Friday with a child who is resilient and trying their best in lessons. Additionally, we have the golden bag full of treats. If a child applies the golden rule they may be selected to choose a gift from the bag as a thank you for treating others as they would like to be treated.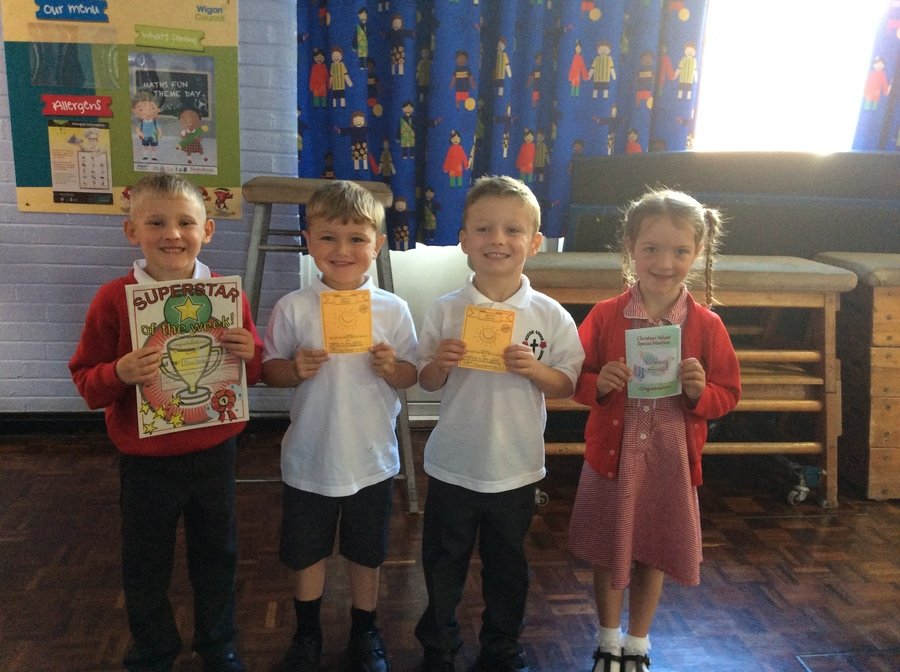 Congratulations Sophina, this week Mr Stuck will be going home with you. This week Sophina really pushed herself to add more detail to her writing after she had completed what was asked. Well done Sophina!
21st June 2019
We have had a very healthy week in Reception this week. The Active Living Team came into school and we ran 'The Daily Mile.' We really enjoyed making smoothies on the smoothie bike and then made more smoothies in class. We held our own 'Mini Olympics' after Matt Leigh an Olympic Athlete came into school.
14th June 2019
On Monday the Science Roadshow came to school to demonstrate scientific experiments. We worked together to make scientific predictions. It was great fun! We have been reading traditional stories and acting them out in the Role Play area. Our favourite story was Red Riding Hood. We created collages of the forest and the characters from the story and we wrote our own story based on Red Riding Hood. In the Maths area we explored repeated patterns and made our own using beads and threads. In Construction we created Grandmas cottage and set the scene from the story.
7th June 2019
This week we have been setting up our Garden Centre and enjoyed a flower number hunt. We have been writing lots of signs, labels and price tags for the shop. We have also written warning signs to help the 'Tiny Seed' to survive in the story and enjoyed our mini beast hunt.
24th May 2019
This week we have been learning the 'ear'sound in Phonics and have been on a listening walk to record what our ears can hear.
We are doing a super job at looking after our plants! The children will be taking them home over the holidays. Great teamwork from the children, working together to make a car wash for our scooters and working together to make cress sandwiches using the cress we had grown.
17th May 2019
This week we have been discovering what our seeds need to grow. We have been creating repeating patterns in Maths and learning about halving and sharing into equal groups. We worked brilliantly as part of a team to transport the soil for our seeds, exploring ramps and working together, listening to each others ideas.
10th May 2019
This week we have been very busy planting a variety of different seeds. The children wrote lists of what they would need to plant a seed and put the instructions of how to plant it in order of sequence. We made beautiful and magical gardens in Construction, writing labels for our designs. In Maths we have been learning about halving and sharing into equal groups.
3rd May 2019
We have been continuing to learn about St George. We built castles in Construction and made shields which we had to design and pay for and did lots of measuring the height and width of St George's cross. We celebrated with a traditional English tea party. The children learned about halves and quarters by making cakes and sandwiches. We loved paying for our food when we had a buffet at the end of the week.
5th April 2019
This week the children estimated how many pine cones they could fit on the Easter egg. Then they counted the actual amount. We made Easter bouquets by arranging 10 flowers and leaves and adding them together. We measured the Easter cross using cubes and adding the height and width. The children really enjoyed going on an Easter egg hunt, ordering the eggs to 30 and counting out the correct number of natural objects to match.
Happy Easter Reception!
29th March 2019
This week we have been learning about 'The Easter Story,' retelling the story, acting it out and we have been busy making our 'Easter Bonnets.'
We have enjoyed drawing the beautiful spring time flowers and describing them.
22nd March 2019
This week the children made an obstacle course from 'The Bear Hunt' story and travelled over, under, through and in between many obstacles. Some of the children also went on a Bear Hunt!
We did lots of measuring and weighing in Maths and the children were amazing at counting in twos as we counted how many feet, wings, eyes the chicks had. Our chicks have now gone back to the farm an we have been writing 'Thank You' letters to the farmer.
15th March 2019
This week has been very exciting watching our chicks hatch. We have been writing about the chicks and listening to the story of 'Chicken Licken.' We have been building homes for the chicks and acting out the story with animal masks.
8th March 2019
This week we have been learning about Lent and went to church on Ash Wednesday. We explored how the church is a special place for Christians and made models of St Paul's Church. We all looked fabulous on World Book Day. Thank you for your support! Nanny McPhee worked her magic too!
1st March 2019
This week we have been 'Going on a Bear Hunt!' We made our own scenes from the story and also measured the bears. We talked about how the bear might be feeling at the end of the story and discussed what makes us feel sad/scared. We made our own caves in Construction and wrote warning signs!
Our garden is looking beautiful as out springtime flowers are blooming! We also worked as a team and followed instructions to clean out the fish tank.
15th February 2019
We have enjoyed acting out the story of Chinese New Year this week. We also noticed that our plants are starting to grow in our Reception garden. We made models to help the animals cross the river and demonstrated great teamwork, working together to build bridges.
8th February 2019
This week we have been celebrating Chinese New Year. We measured and compared the lengths of the dragons tails using non standard measures. We also estimated then measured the length of the kimono. In Construction we built models to help the animals cross the river. We started to make the Chinese Dragon and practised our Dragon dance.
1st February 2019
This week we have continued with our topic of Journeys. We made maps and pictogram graphs. We learned about Islam and talked about/acted out the Journey to Mecca during Pilgrimage. We enjoyed 'The Naughty Bus' and engaged in imaginative play after listening to the story. We also made our own buses and paid 10 pence for them, adding amounts to buy parts for the bus. Of course we enjoyed 'writing' in the snow!
25th January 2019
Our listener this week is Jack and our estimator of the week is Isabella. We have been learning about where we live in Wigan and Wigan's famous landmarks. We enjoyed making these landmarks in Construction and listening to the music of George Formby.
18th January 2019
This week we have been learning the 'l' sound and had fun exploring lots of 'l' words and making models beginning with the 'l' sound. We have been adding amounts together using the toys from 'The Toys Party' story and writing lists of ingredients to make a cake for the party. We made a cake just like Kipper with some very unusual ingredients!
11th January 2019
Happy New Year Reception. This week we have been learning the letter 'f.' The weather helped us to learn this sound as we explored the frost and the fog! We also played the 'Jack Frost' game. We started to learn about old and new toys as part of our topic and made a toy teddy bear in Construction.
21st December 2018
We have enjoyed a very busy week in Reception. We loved our pantomime and we were absolutely amazing in our christmas nativity. We are very proud of all of the children who performed! The children celebrated their achievements with a fun filled christmas party and Breakfast with Santa. We wish you all a very happy christmas and a wonderful New Year.
14th December 2018
This week we have been busy creating our own Christmas decorations. We explored colour mixing while painting our decorations. The children were surprised that when mixing two colours together it made another colour! In Construction we have been busy designing and building a new stable for baby Jesus and a manger for him to sleep in.
7th December 2018
This week we have been learning the names of 3D shapes and describing them. We explored which shapes rolled and which shapes did not roll. We enjoyed reading the story 'Can't you sleep Little Bear' and created our own reading cave for the bears. We have been learning about 'The Christmas Story' and in Construction built a special place for Baby Jesus to be born.
30th November 2018
This week we have been continuing our theme of celebrations. The children brought photographs in from home of their special celebrations and talked about them. We explored whether some celebrations were more important than others and why. We explored colour mixing to paint an orange flame for our Diva lights and made Diwali sweets.
23rd November 2018
This week we have been continuing with our 'Celebrations' topic and we planted our bulbs ready for next Spring. We had a very special visitor, Rev. Mark who talked to the children about Baptism. Our class puppet Shirley was baptised. We learned about 'Diwali' the Hindu festival of light and designed our own Rangoli patterns.
16th November 2018
This week we have been choosing Respect as part of 'Anti-Bullying' week. The children came to school wearing odd socks and throughout the week learned how to show Respect to others. We wore yellow for 'Children in Need' and enjoyed estimating and counting how many bears we could fit on Pudsey Bear.
9th November 2018
This week the children have been weeding our garden area and recycling the waste in the compost bin. We explored colour, light and dark as we created pictures of fireworks. We learned about Remembrance Day, made poppies and a huge poppy using our bodies.
2nd November 2018
A 'Spooky Week' in Reception this week, reading 'Room on the Broom.' The children acted out the story after the 'invisible' witch visited our classroom. We estimated in Maths how many objects could fit on the broomstick and added one more each time. In Construction the children made a model of a new mode of transport for the witch! Using our Autumn collection of objects we made patterns in the style of Andy Goldworthy. We used the iPads to take photographs of our designs.