Year 6
28th February 2020
This week, Year 6 are imagining that they are suffragettes and have written a letter to the Prime Minister in 1917, David Lloyd George. They have also discovered this week that women over 30 finally won the vote in 1918. During the war, women's contributions to the war effort were recognised.
To further their knowledge of how people have been discriminated against, the children have started to learn about protest songs this week.
On Wednesday, all of the school went to church for the Ash Wednesday service. Reverend Mark told us all about how Jesus was tempted in the desert and how he resisted those temptations. We all thought about what we can give up for Lent or what extra things we can do for others during lent.
14th February 2020
This week, Reverend Mark came into Year 6 to discuss the Eucharist and how it is a representation of the Last Supper. Year 6 recreated the Eucharist using bread and Vimto which represented the body and blood of Christ. . Reverend Mark showed the stole, which is like a long scarf, that he uses when he gives communion.
Year 6 also designed an Eco-Friendly home using solar panels and plant instead of televisions and other technology.
We have continued in our learning about the Suffragettes, and have learned about how World War 1 affected the suffrage cause. In art, we have continued to use pop art to explore the suffragettes' world , drawing of pictures of notable suffragettes and words associated with their cause.
In Maths, we have moved onto volume of 3D shapes and have solved some tricky problems using area and volume.
7th February 2020
This week, year 6 have been learning about perimeter and area of shapes. We have been investigating how to find the area and shape of triangles, rectangles and parallelograms. In English, we have been learning about writing letters in a formal style and have been retelling events that happened to the Suffragettes during their fight for the vote. In Art, we have been carrying on with our learning about Roy Lichtenstein and his use of pop art. To link it to our work on the Suffragettes, we have drawn portraits of famous suffragettes and decorated them in the pop-art style. It has been interesting in science learning how living things are classified and what the Latin names for every day species.
31st January 2020
This week we have been continuing with our history topic of the Suffragettes.
Year 6 have been extremely interested in this topic and have been comparing some original posters that were published at the time to understand how some people supported the Suffragette's cause, whilst some people were against it.
To help us understand what is was like to live at the time, we have studied a letter that was written by one the of the Suffragettes. We have then written our own letter explaining how the Suffragettes were treated.
Today, as it is the day when Britain officially leaves the European Union, we have had a discussion about what this means for our country and why it has happened. Mr Rigby was really impressed with the views of some of our pupils. They have a really good understanding of current affairs.
In Maths we have learned about ratio and have now moved onto measurements. Year 6 are becoming more resilient in their learning which is wonderful to see.
13th December 2019
This week, Year 6 have been completing their persuasive argument against deforestation. They have thought really carefully about how to put together a persuasive article using facts and evidence to back up their opinions.
This week, we have also opened our Christmas stall and two of our pupils, Charlotte and Callum, have been working really hard to help Miss Roscoe to run the stall.
We had a treat on Wednesday, as the team from 'Open the Book' joined us for Wednesday Worship and the children joined in with the retelling of the Nativity Story. On the run up to Christmas, we have had Coverdale puppets in to tell us the true meaning of Christmas and not to forget Hawkley Hall pupils who performed not one but two pantomimes for the whole school (Oh no they didn't!)
6th December 2019
"We have had another busy week in Year 6. In Maths, we started to learn the basics of algebra. We found this a bit tricky but we kept going! In English, we have been looking at persuasive writing for an argument. We wrote an introduction to our own argument about school uniforms. In Art, we used our Mayan tiles to do observational drawings. We used pencils and oil pastels to add colour. We also designed our own Mayan mask." Evie and Kyle
29th November 2019
"This week has been very busy in Year 6. After school on Monday some of us took part in the Christmas Fayre. Our stall was a lucky dip stall. We had lots of fun going to all the stalls! Also on Monday an author and illustrator came into school to teach us about his career. He inspired us to dream big!" Lyla and Jenny
22nd November 2019
"This week Year 6 have had a very busy week. On Monday the Mad Science Roadshow came into school and showed us experiments linked to the Olympics. Our favourite experiment was when we tested which ball had the best air resistance. In Maths, we have been learning about decimals and fractions. We are looking forward to the Christmas Fayre on Monday and taking part in all the stalls." Lily-May
8/11/19
In Art this week Year 6 have painted their Mayan tiles and have made poppies for Remembrance Sunday. In Maths, the fractions topic has been tricky, but with perseverance they can now add and subtract them efficiently.
1st November 2019
Year 6 enjoyed their visit from Classroom Kitchen, brushing up on their cutting skills to produce a very tasty Jambalya, which was devoured by them! Maths has been quite tricky as the topic is fractions but the children are making good progress.They have also wrote excellent expanded noun phrases and personification sentences to create a different atmosphere in English.
18th October 2019
This week we have had another busy week in Year 6. In Art we completed our Mayan inspired clay tile and we are looking forward to painting them after half term. On Wednesday we celebrated Harvest in Church. We donated tins of food and gave thanks for what we have.
27th September 2019
'This week we have had a very busy week in Year 6. On Monday in PE we had a handball tournament in the hall and the red bib team won. Well done Reds! In Art we designed our own Christmas Card, our theme this year is Silent Night. In Maths we have started to learn about BODMAS. We found out it stands for Brackets, Order, Division, Multiplication, Addition, Subtraction. In Science we continued to learn about light. We enjoyed using torches to explore opaque, transparent and translucent objects.' Ella, Lyla and Jenny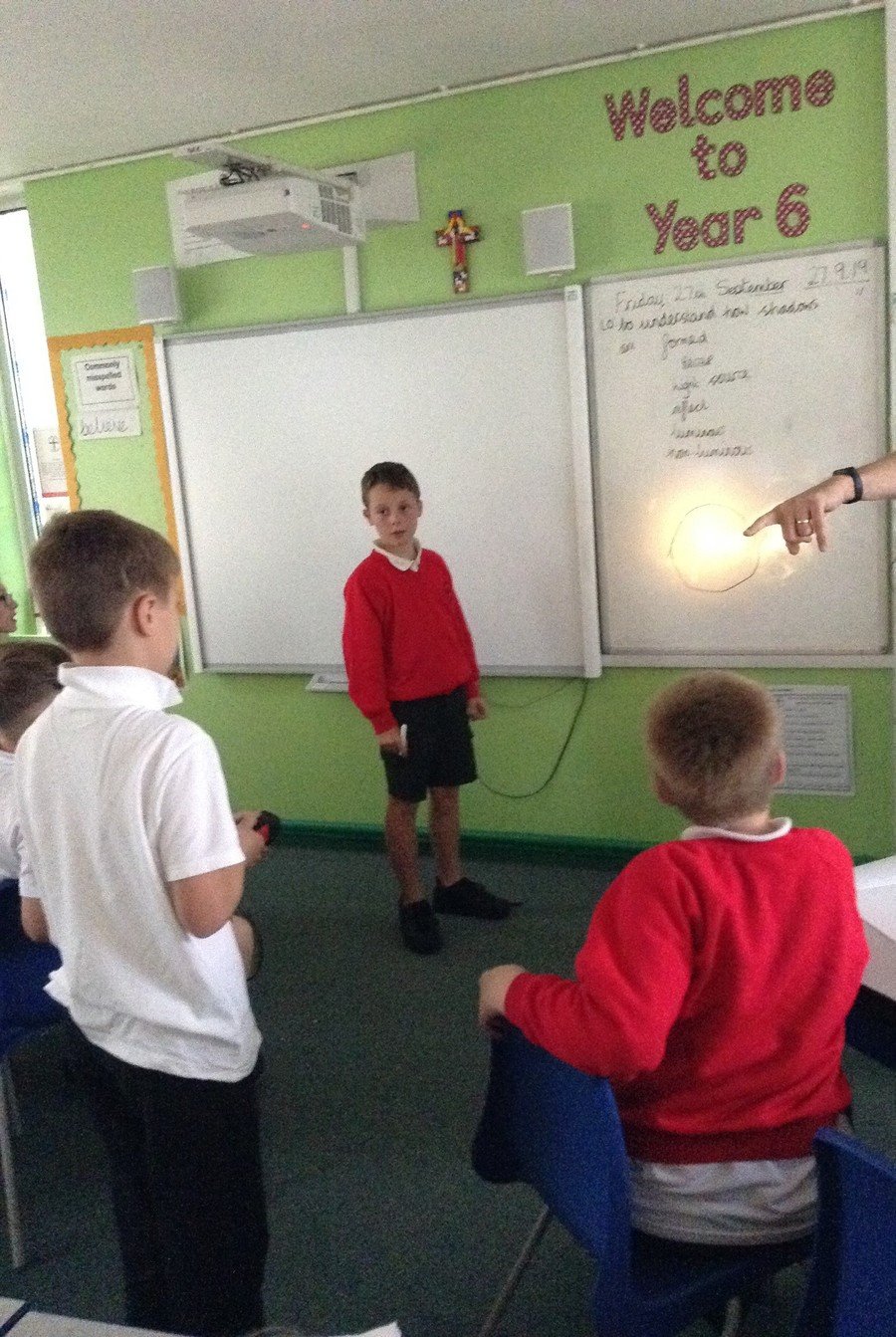 14th June 2019
This week in English we started to write a balanced argument about whether Origami Yoda can predict the future or not. We had to take into account both points of view.
In Maths we have continued our work on percentages. We have worked hard to turn fractions into percentages, we have also turned percentages into a decimal number.
On Monday afternoon the Science Roadshow came to school and taught us about electricity. We watched lots of demonstrations and even took part in some of them. Our favourite part was when the scientist made wallpaper out of bin bags! To do this we had to rub a woolly jumper along the bin bag 30 times and then place it on the wall. Static energy was made. The static energy made the bin bag stay on the wall for nearly an hour. It was a rally fun show!
7th June 2019
In English this week we have started to read our new book 'Origami Yoda'. We have enjoyed listening to the different entries which are trying to convince us that Origami Yoda can predict the future. We came up with for and against ideas if Origami Yoda is real.
In Maths we started working on our new topic Percentages and Decimals.
In Art we have been looking at Saxon armour. We have started designing and making our own Saxon helmet.
10th May 2019
This week in Year 5 we have planned and wrote our own stories including using the past perfect and past progressive tense and including adverbial phrases. In maths we have been converting fractions into decimals. We also planned our own science experiments around forces.
3rd May 2019
This week in Year 5 we have been learning about decimals in maths.
We have been reading 'The Firebird', learning about different tenses, writing multi-clausal sentences, adding suffixes to nouns and adjectives to create verbs, using the subjunctive mood to give advice in a letter and exploring synonyms and antonyms.
In topic, we wrote secret messages in ancient Saxon writing.
We began our science topic - forces. We discovered we already knew quite a lot! We identified gravity, upthrust (buoyancy), driving force, air resistance, water resistance, friction.
29th March 2019
At the start of the week all the children enjoyed an assembly all about water safety and celebrating their sporting achievements.
This week year 5 have been working hard on our assessments. The children have shown real resilience and determination to do their best.
We have also created some Egyptian inspired sketches in Art and we have been orienteering in P.E.
22nd March 2019
This week in Year five we have written diary entries in role as Michael from Kensuke's Kingdom. The children have done some drama, acting out a conversation to get in to character for their writing. In Maths we have begun subtracting mixed numbers with unlike denominators using bar models. In Science we have created lunar path models and explain to one and other how we see the moon at different stages.
15th March 2019
In English this week we have started our new book 'Kensuke's Kingdom.' The children have written balanced arguments about whether or not a sailing adventure around the world would be a good idea. In R.E we have a special visit from Reverend Mark, who taught us all about the Easter story and the stations of the cross, the children acted out each station and wrote a newspaper article about a station of their choice. In science we have learnt all about time zones and the reasons why different countries have day and night at different times!
8th March 2019
This week in English Year 5 have been writing non-chronological reports about the ancient Egyptians. Miss Saunders has been very impressed with their research and the presentation of their findings! It has also been world book day, in our class we did a book scavenger hunt and discussed all the different types of books we enjoy. In Maths we are still working hard on fractions, this week adding and subtracting (even fractions with unlike denominators).
1st March 2019
This week in Year 5, we have been ordering and comparing fractions in Maths. We have been learning the mummification process and writing clear instructions in History.
In Art we made Egyptian neck collars and made a friendship signpost for the friendship garden.
15th February 2019
This week in Year five we have been investigating fractions. The children have been converting improper fractions to mixed numbers and vice versa. They managed to prove this with equipment and even move on to mathematical ways to convert more efficiently. We have also finished our class book and written a review of the parts we liked best – we are very ready for next term!
8th February 2019
This week Year 5 worked with the NSPCC and took part in a 'Speak Out. Stay Safe' workshop and assembly. During the workshop the children were encouraged to discuss how to stay safe and who to turn to if they need help.
1st February 2019
This week in Year 5 we have had a workshop all about Islam and had the opportunity to handle and investigate artefacts. The children made impressive presentations about their learning.
We have also been writing stories of our own in English and practicing our editing skills. Miss Saunders is excited to read the endings of our stories next week.
25th January 2019
This week in Year 5 we have been planning our own stories about time travel, we have been inspired by (spoiler alert) Topher and his adventures through time. We have investigated verbs and adverbs and what makes them effective; we will be using these in our writing next week! In History we have been learning about how pyramids were made and studying the chronology of ancient Egyptian dynasties.
18th January 2019
This week in Year 5 week we have been multiplying using a variety of methods – we used the grid method, long multiplication and partitioning.
In science we have been digging in to our topic of Earth and space; we looked at the order and features of the planets in our solar system. In English we have been planning and writing Diary entries, in role, as 'Ka' the stone cat which has come to life!
11th January 2019
This week in Maths we have been dividing using short written method and estimating using the inverse operation.
We have begun our new science Topic 'earth and space' and have analysed evidence for Flat earth vs spherical earth theories.
We started a new Egyptian themed book in English 'The time travelling cat' by Julia Jarman – "We really like this book so far, it's about a boy called Topher and mystical cat which oddly looks like a carving Topher's Mum gave to him before she died." Ellie & Mia.
21st December 2018
This week Year 5 have enjoyed our Advent Service, the singing was beautiful!
We have also had a lot of fun with our Christmas Party. We played lots of games and danced to our favourite Christmas tunes.
Of course, we have done a lot of practice with long multiplication too!
14th December 2018
This week in Year 5 we have been learning about marine animals in English, we created a setting description from a divers perspective of a coral reef. Due to the fact that we are learning about marine life, we have also enjoyed parts of 'Blue Planet'.
In Maths we have been learning about long multiplication and looking at the various ways we can present it. Charlotte's tip "If you are multiplying by a round ten, you put a place holder in the ones column to make your answer ten times greater from the start."
7th December 2018
This week in Year 5, we have been enjoying classroom kitchen again. We made fish cakes with potato, spring onions, tuna and breadcrumbs with parsley. We will send the recipes home if you'd like to have another try!
30th November 2018
This week Year five have been really focusing on their Maths. We have investigated factors and prime numbers, creating factor bugs and slugs! Ask Year five and they will explain. We have also produced our second draft of balanced arguments and Miss Saunders was very impressed with the passion that the children had about the topic of saving the rainforest.
23rd November 2018
In Year five this week, we have debated as a class the pros and cons of palm oil farming. The children researched both sides of the argument and practiced listening, responding and effectively countering each other's point. We have written this up into a balanced argument.
16th November 2018
In Art this week we have looked at tigers of the rainforest and created sketches based on the artist Henry Rousseau. In Science we have been looking at different types of reproduction in plants. In English we have written our own magazine articles about deforestation, it's impact on the rainforest and what we can do to save it save it.
In Maths we have been looking at different types of data, such as line graphs and conversion charts, and learning how to interpret it.
9th November2018
This week Year 5 have been planning a Science investigation to find out what the most vital need of a living thing is. The children came up with the investigation question themselves.
2nd November 2018
Year 5 have had a very busy first week back.
This week in Science we have been learning about different food chains. We have really enjoyed studying food chains. Our favourite food chain was sea weed - fish - shark.